Selling your used, junk, old, broken or scrap in Pakenham for cash is not at all difficult because of Cash for Cars Pakenham. There are a number of car buyers who are willing to pay top dollar cash for cars. But only the best ones like ours will pay you full cash for your car's value without any delay. 
Our cash for car deals are valid for all kinds of automobiles; all makes, all models and all conditions. You can sell us your 4WD, truck, SUV, UTE, car, van, minivan, pickup truck or any other vehicle to our company. Our team will assess your car and put up a quote that will resonate your car's overall value.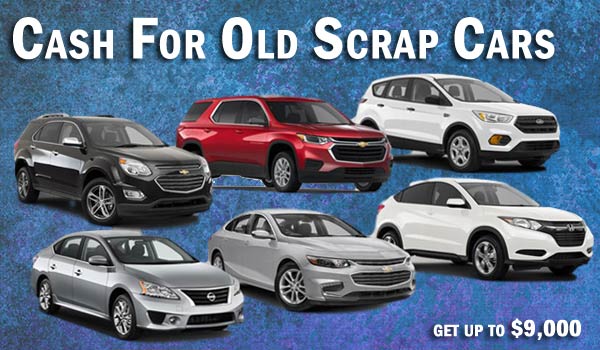 Instant Cash for Unwanted Cars Pakenham
With Cash for Cars Pakenham, people can sell their unwanted car for cash on the same day. They will not only get up to $9,000 cash for their car, but they will also get paid on the spot along with transfer documentation.
Are you willing to know how much money you can get for your car? Contact us now. All you need to do is answer the following questions in order for our experts to determine your car's value.
What is the model of your car?
When was this model first manufactured?
How many kilometers on the clock? And
What is the overall condition of your car?
Based on what you tell us about your car, we give you a quote as high as $9,000.
Quick Cash for Old Cars Pakenham
At Cash for Cars Pakenham, we buy all cars that are used and old. It doesn't matter whether they are running or non-running. Our company will buy any sort of car from your hands. All you need is to contact us for your car evaluation and we will come to your place to pay you the right money.
Fair Cash for Scrap Cars Pakenham
Do you have any broken, scrap, junk or damaged vehicle for sale? No problem. Cash for Cars Pakenham are ready to buy it. People not only get reasonable money for their scrap car, but they also get free pick up and old car removal in Pakenham on the same day.
Top Cash for Commercial Vans and Trucks
Cash for Cars Pakenham offer to buy all your trucks, 4WDs, vans and even fleets of commercial automobiles. We offer to assess your unwanted trucks absolutely free of cost and give you quotes as high as $13,999. You can sell us your unwanted vehicles without worrying about their overall condition. We buy trucks that are badly damaged as well as the ones that are slightly used.
Our sell my truck service and all other cash for car services are designed to serve one major purpose. That purpose is to free the suburb of Pakenham from any automotive junk. The unattended junk, scrap, used, broken and dishevelled automobiles are a threat to the environment. Cash for Cars Pakenham take accountability for such threats and know the best solutions. 
Why Cash for Cars Pakenham are Top Car Buyers
Whenever you decide to sell a car to a car wrecking yard in Pakenham, the first thing you must do is check for the credentials of the car wrecking company. They must offer you services without charging you for them.
First of all, we offer to evaluate your car completely free of cost. Not only that, our evaluations are also free of obligation. Apart from that, we provide free car removal and collection services in all of Pakenham. Nevertheless, we take full responsibility of transfer papers.
Car Payment at the Time of Pick up
When we give you our cash quote, you can tell us whether or not you approve our offer. And when you get on board, Cash for Cars Pakenham schedule a free towing service on the day of your choice. 
When we come to your address for the car removal. Our team first does a quick inspection. And soon after that we hand you the full cash for cars up to $9,000.
We pay you full money according to the quote and you will get payment receipt on the spot because we transfer funds via bank or pay id due to new scrap metal laws that are in place in Victoria.
Contact Us Today to Sell Your Car
At Cash for Cars Pakenham, We have a very simple online form that allows you to tell us all about you old and unwanted car. Make sure to enter your full contact details in the form as well. 
If you wish to speak to our experts you can always call our customer support helpline. Or email us to request a cash quote.